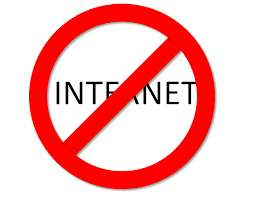 Written by Victoria, from the Bloggers Association of Kenya.
Imagine waking up one day and turning on your computer but you cannot get access to the internet; no browsing, no news, no videos, no internet games, no online chat forums, no social media access. Everything online has been locked out in an instant.
Our world relies heavily on the internet. From communicating with each other to having easy access to a wide variety of knowledge, it is hard to tell what we would do without the internet even for a day.
If the internet was to shut down, the first and most noticeable change will be the huge communication issues. Recently, when a popular communications service provider in Kenya shut down for close to 24 hours, the country was out of a major communication platform. Nevertheless, due to the access to other communication service providers, people were able to communicate with each other.
Imagine a situation where we will not be able to communicate with each other when no service providers can be accessed. We can forget about even having cell phone reception since the cables and satellites that support our wireless phone services will not be able to operate without the internet. We also will not be able to send and receive emails and social media. This would mean the end of easy access to fast-paced information and knowledge.
With just the touch of your screen, we can find out what is happening in other parts of the country from occasional events to even the weather just because of internet access. With no internet, we will have to rely on antenna radio and broadcast television. This would be challenging since most people have transitioned to digital television.
When the internet is shut down, even temporarily, it is viewed as very suspicious activity on the government's part, especially during an electoral year.
There is a real fear of Internet Shutdowns during this election period (either complete or partial). There seems to be doublespeak from the government (the Cabinet Secretary and Communications Authority of Kenya giving contradicting statements). The basis of the shutdown could be brought about by public order justification for instance: to maintain public order as well as initiatives such as National Cohesion and Integration Commission's gadgets to monitor hate mongers.
If the internet shuts down during the Election Day, transmission of results would definitely be affected and the said Virtual Private Network (VPN) set to be used to transmit tallied votes could equally be compromised. At a National Election Conference hosted by IEBC in early June, Dr Wangusi, a panellist in one of the sessions, assured Kenyans that there would be no censorship or interruption of communication on the day of elections. He also clarified that election results would be transmitted on a VPN which would see that they do not touch on the bandwidth Kenyans would use on the day.
An Internet shutdown is not the right way to maintain public order. This is because, if the internet went out, it would cause panic in the country. People would start looting, burning things down, and having no regard for local authority. The lack of information when the internet is down will force the government to turn to the martial law to restore order. This would include the local police being replaced by the army as well as new rules like curfews being implemented. This is, therefore, detrimental to a country's economy.
However, it would be nearly impossible for a government to shut down the entire Internet. Some people in the public have access to a wide range of tools such as VPNs that can easily be used to circumvent any blocks put to deny them access to the Internet in case of an internet shutdown. There are, therefore, too many paths into and out of the country using these VPNs, which have independent providers. The providers who would have to be intimidated for a countrywide shutdown to be executed.
Written by Victoria, from http://bake.or.ke