KeSIG Programs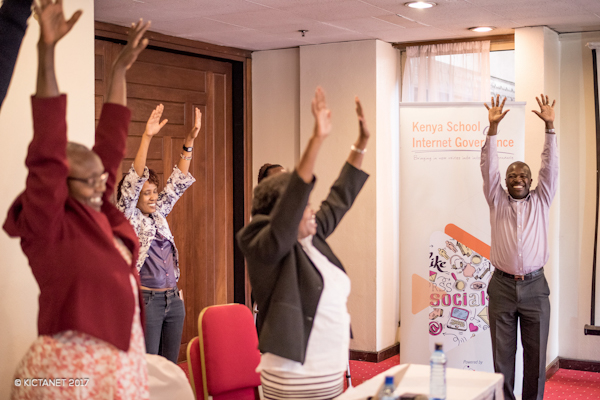 Kenya School of Internet Governance (KeSIG) is held annually during the Kenya IGF Week and precedes the Kenya IGF.
The inaugural school was organized by KICTANet in 2016 in Nairobi with 50 participants going through a three-day intensive capacity building program on Internet Governance. The School was the first national school of Internet Governance in Africa. Since then, KICTANet has hosted the school each year.
The Kenya Internet Governance Forum has played a pivotal role in enhancing public participation in public policy development in Kenya. The forum has introduced new forms of ensuring public participation such as remote participation with the support of international organizations such as the Internet Society which have equally been embraced by the government, private sector, technical community, and academia. It has also built the capacity of many actors from diverse areas in the private sector, civil society, academia, and the media on how to engage with other stakeholders in public policy development processes through a multi-stakeholder approach. It is for this reason that the Kenya School of Internet Governance was conceptualized to bring new voices into the Internet Governance debate.
The school targets Kenyans from all sectors- government, academia, tech community, and civil society who are new to Internet Governance issues.
The COVID-19 pandemic provided an opportunity to reflect and evolve our organisational strategy. KICTANet restricted physical meetings, and transitioned them to be entirely online, e.g. events like the Kenya IGF and the Kenya School of Internet Governance. An e-learning platform was developed for KESIG which reduced the costs of the training while making it better leading to an increased capacity from 40 to 100 students. However, disparities in internet access meant many were not reached, even as many households installed internet fiber at home, or upgraded their bandwidth to cater for increased need of working from home. These developments provided an opportunity to advocate for the reduction of internet access and connectivity costs and taxes.
KeSIG is an introductory course covering technical, economic, legal and contemporary social issues brought about by the Internet and how they affect Kenyan decision making. It aims to build critical mass of individuals advocating for Internet rights and freedoms through equipping the participants with the skills needed to participate meaningfully in local, regional and global policy discourse
KeSIG is convened by Kenya ICT Action Network (KICTANet) which is a multi-stakeholder platform for people and institutions interested and involved in ICT policy and regulation. The network aims to act as a catalyst for reform in the ICT sector in support of the national aim of ICT enabled growth and development. KICTANet has since 2008 convened the annual Kenya Internet Governance Forum (KIGF) that brings together local actors in ICT policy discussions. In response to a need for new voices, KICTANet, with support from HIVOS and Facebook , organised the first Kenya School of Internet governance (KeSIG) in 2016. KeSIG has grown to be among KICTANet's flagship programmes, and its success has not been only in bringing in new voices but also encouraging those whose work has been disrupted by the internet to understand and contribute to internet policy making processes. In its 2nd and 3rd editions, KeSIG deliberately targets law enforcement officers, civil society organisation officers, traditional and new media practitioners, the tech community and academics. Its aim remains to build capacity for local and global internet governance by leveraging on existing policy advocates from areas such as media, human rights, devolved government and law enforcement and adding new voices Areas to be covered in the 3rd edition of the training include: introduction and main issues in internet governance; internet governance processes and how to get involved; and Kenya's internet governance frameworks. The faculty is sourced from local and African actors such as the regulators, the executive, civil society leaders , digital rights activists, lawyers and technical community.
Objectives
KeSIG's mission is to increase capacity of key actors and potential actors in the local internet governance space. These include traditional human rights defenders and civil society organisations, students, academia, tech community and government departments. These actors are also commissioned to participate in international internet policymaking thereby contributing African perspectives in global debates. Specifically, the three day face to face training aims to:
get participants to understand internet governance
increase the mass of people contributing to internet policy making in Kenya and globally
equip participants with skills to effectively participate in internet governance discussions and forums
provide networking opportunities for different stakeholders
provide actors involved in internet governance (trainers) with feedback on emerging issues
Methodology
KeSIG will take place over a period of four days. In the first day, participants are taken through basic concepts in internet governance with a focus on Kenya's journey. Topical issues such as content control and election monitoring are covered in the second day. On the third day, participants interact with policy makers such as the Communications Authority, legislative drafters and policy advocates from Kenya and Africa.
The training is a mix of lectures and interactive activities. Participants get to listen to perspectives from veterans and practitioners who have participated in shaping Kenya's position as an ICT power house in Eastern Africa. They also get to stimulate scenarios such as content policy , digitalisation and the future and digital rights in Africa. KeSIG alumni also facilitate sessions in the programme, encouraging participants to envision their contribution to internet policy making.
Areas to be covered in the training include:
Introduction to internet governance
Main concepts in internet governance
Internet governance processes and how to get involved
Kenya's internet Governance policy /legal framework(s), internet Governance Issues in Kenya
Digitalisation and digital rights in Kenya and Africa at large
Impact and Past KeSIG fellows
Between 2016 and 2022, KeSIG has trained 350 new voices on internet governance. Check the cohorts of KeSIG from inception.