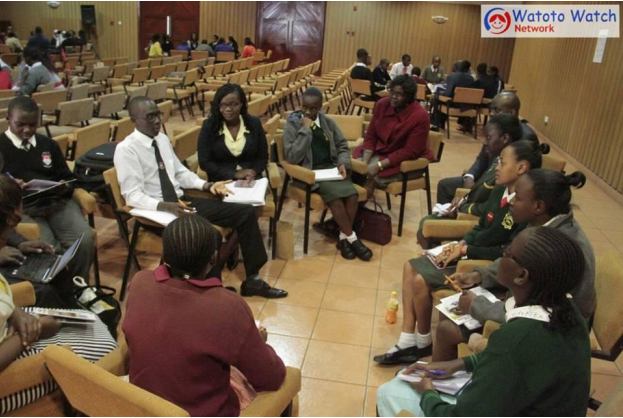 Kenya-Youth IGF is a platform where children and young people in Kenya will convene to discuss on internet matters and how to make the internet better for them. This Initiative aims to provide a platform for younger generation in Kenya to speak up on Internet Governance issues, build up sense of digital citizenship of young people, raise awareness on Internet governance issues and to familiarize the community with the Internet Governance model, all in order to equip participants with skills and knowledge for future participation in actual Internet policymaking discussion.
YIGF Kenya is a one day event that will be held at Daystar University on 5th July 2017 from 8:30 am to 2.30pm. The topics and discussions held at the Youth IGF will be presented at the main Kenya IGF.
Objectives
Build the capacity of young adults to participate in internet governance discussion.
Encourage youth to attend and bring contribution to actual internet governance discussion
Provide platform for cultivating idea to drive social change and further actualizing the initiative for a healthy and harmonious internet.
Develop youth network on internet governance.
Activities
All youth participants will be assigned to different stakeholder groups for example Civil Society, Private Sectors, Governments, etc. for the discussion of various internet governance issues. The aim of this simulation session is to let the youth to put themselves into other people's shoes and encourage them to think from a multi-stakeholder perspective.
They will then present their views and proposals to a panel of representatives from the various sectors.
Event Program
0800 – 0815:  Arrival and registration, Daystar University Auditorium, Nairobi Campus

0815 – 0930:

 Welcome note,Roselyn Olumbe, Daystar University,
Lillian Kariuki, Executive Director, Watoto Watch Network
Introduction to Youth IGF- Grace Githaiga KICTANet,
Remarks by guests,
Kenic ( .Ke),
Facebook,
Safaricom*,
Law Society of Kenya,
Ministry of ICT,
Opening of the forum,
Communications Authority of Kenya-Vincent Ngundi Assistant Director,
Cyber Security and E-commerce

0930 – 1000:

 Tea Break

1000 – 1130: 

Youth discussion (Main hall),Teachers and lecturers engagement,
-Facebook Public policy Manager Africa,
-Communications Authority

1130 – 1315:

 Youth Presentation,Stakeholders Panel- Q/A,
Communications Authority, Ministry of Education, Ministry of ICT,
Facebook, Safaricom, LSK

1315 – 1430:

 Lunch break/Departure
Watoto Watch Network is the organizer of this first Kenya Youth IGF. Watoto Watch Network is a child focused non-profit organization that has been on the lead in championing Child Online Protection (COP) since 2013 in Kenya. Watoto Watch network are also the Kenya Organizers of the Global Safer Internet Day, which is celebrated globally to help promote the safe, responsible and positive use of digital technology for children and young people. http://www.watotowatchnetwork.org/