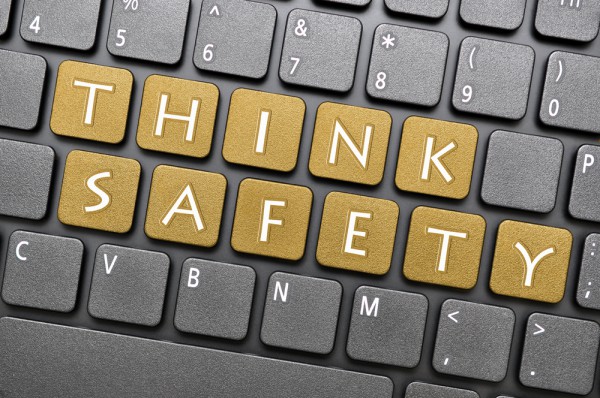 Written by Victoria, from the Bloggers Association of Kenya.
Most of us use the internet every day. It has even become a 'most of the day' habit. The more time we spend online, the more disconnected we can feel from the world around us. We get excited whenever we hear a beep from our phones and always rush to view it. We even tend to look at our phones whenever we are in meetings, whether personal or professional. We continue to draw a distinction between what happens online and what happens 'in real life'. This is because we do stuff online which we would not necessary not do in real life.
The internet is an amazing place when you want to learn how to do anything, when you are being entertained with a funny video or when popular uprising topples governments. Nevertheless, it's a rough place when we are cyberbullied, sent anonymous threats, victims of revenge pornography and mob mentality, ransomware, fake news, companies stalking your every move, getting hacked, identity theft, getting catfished or getting doxed.
In 1994, 2 million computers were connected to the Internet and were specifically intended for academic use only; in 2012, there were 2.4 billion Internet users worldwide, from all lifestyles; recently, Facebook registered 2 Billion users.
Do we have the capacity to adequately respond to cybercrime incidences?
Cybercrime is criminal activities carried out by means of computers or the internet. The threat is incredibly serious and growing. According to Federal Bureau of Investigations (FBI), cyber intrusions are becoming more commonplace, more dangerous, and more sophisticated. It does not only affect governments and the private sector but also individuals. Companies are targeted for trade secrets and other sensitive corporate data, and universities for their cutting-edge research and development. Fraudsters and identity thieves target citizens, and online predators target children.
To combat this threat, Kenya needs a proactive Cyber Division that will address cyber crime in a coordinated and cohesive manner. We also need specially trained cyber squads who will protect against and investigate computer intrusions, theft of intellectual property and personal information, child pornography and exploitation, online fraud and cyber bullying. There should be a growing partnership with other government agencies, including the Ministry of Interior, the Ministry of Information, Communications and Technology, and others, which share similar concerns and resolve in combating cyber crime.
What are the challenges in tackling cyber crime?
Technology has advanced in the past few decades making it more informative. According to the global economic symposium, there is now a sophisticated and self-sufficient digital underground economy in which data is the illicit commodity. Stolen personal and financial data, for example, are used to gain access to existing bank accounts and credit cards or to fraudulently establish new lines of credit. This has a monetary value and drives a range of criminal activities, including phishing, pharming, malware distribution and the hacking of corporate databases. It is supported by a full-fledged infrastructure of malicious code writers, specialist web hosts, and individuals able to lease networks of many thousands of compromised computers to carry out automated attacks. This poses a major challenge in fighting cybercrime.
Finding the perpetrators is hard especially in mass bullying. People tend to create fake accounts to attack people online. Finding the exact individual becomes difficult.
What is the solution to address cybercrime challenges?
Active targeting of underground forums to disrupt the circulation of powerful and easy to use cyber criminal tools, such as malware kits and botnets
Continue to develop insight into the behaviour of the contemporary cybercriminal by means of intelligence analysis, criminological research and profiling techniques, and based on the combined law enforcement, IT security industry and academic sources, in order to deploy existing resources more effectively.
Parents should be made aware of protection mechanisms, especially for children.
Bullying victims and perpetrators need counselling.
The family situation needs to be addressed before they reach an online space.
Interrelated issues need to be addressed as bullying cannot be handled in isolation.
Law enforcement officers should be kept updated on the evolving state of online behaviour
Parents and teachers should have access to tools that can be used to monitor their children's online activities
Provision of cyber-crime unit emergency numbers to online users
To avoid online bullying or the negative image we portray online and how we use the internet, we will need to;
Commit to being our real selves online
Visualise the real person about to be emailed, tweet or comment on a post. This will bring human qualities of attention and empathy to our online communications.
Literally, take the idea of online presence and make the experience of being online a disembodiment of a journey into our minds rather than out of our bodies.
Treat Facebook and Twitter connections as real friends instead of 'friends'. We will stop worrying about how many we have and focus on how well we treat each other.
Take Instagram photos, YouTube videos and blog posts seriously as real art and reclaim creative expression as part of our life.
Treat online attention as a real resource and investing our attention in the sites that reflect our values, helping those sites grow.
Spending our online time on what really matters and experience our time online as an authentic reflection of our values.
Embrace online conversations as real and imbue them with the power to change how we think and feel.
Written by Victoria, from http://bake.or.ke